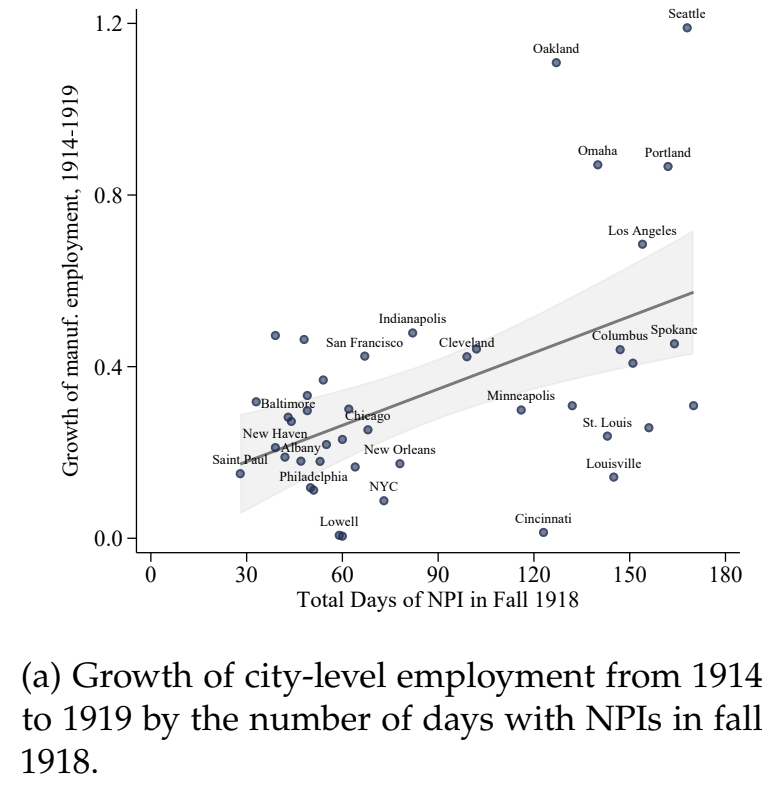 We find that cities that intervened earlier and more aggressively do not perform worse and, if anything, grow faster after the pandemic is over. Our findings thus indicate that NPIs not only lower mortality; they also mitigate the adverse economic consequences of a pandemic.
This paper examines the impact of 1918 Flu pandemic and resulting non-pharmaceutical interventions on real economic activity. Using variation across U.S. states and cities, we deliver two key messages.

First, the pandemic leads to a sharp and persistent fall in real economic activity. We find negative effects on manufacturing activity, the stock of durable goods, and bank assets, which suggests that the pandemic depresses economic activity through both supply and demand-side effects.

Second, cities that implemented more rapid and forceful non-pharmaceutical health interventions do not experience worse downturns.


In contrast, evidence on manufacturing activity and bank assets suggests that the economy performed better in areas with more aggressive NPIs after the pandemic.




Altogether, our evidence implies that pandemics are highly disruptive for economic activity. However, timely measures that can mitigate the severity of the pandemic can reduce the severity of the persistent economic downturn. That is, NPIs can reduce mortality while at the same time being economically beneficial.
2,671 total views, 1 views today
---
More:
The Great Lockdown, despite its enormous short-term economic costs, has saved hundreds of thousands of lives.

International Monetary Fund
---
voxeu.org/article/coronavirus-meets-great-influenza-pandemic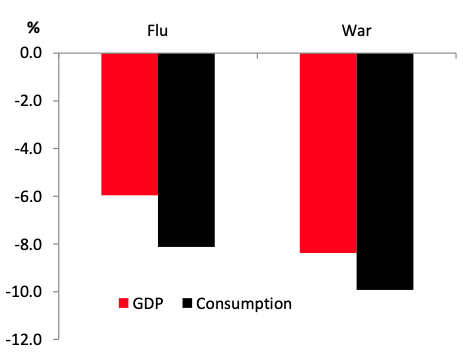 ---
Subscribe to be notified of new posts:
---